It was a tense week for Real Madrid as they were winless in their last 3 league games and the pressure was piling on both the team and Zidane, as the media speculated about whether or not he would continue as manager for Los Blancos.
Real Madrid failed to deliver in the Champions League and this means they really have no other choice but to win against Borussia Monchengladbach on Wednesday, December 9th in order to progress to the Round of 16 of the competition.
Also, Real Madrid needed a win over Sevilla, who were in good form recently and sat just below them in the league table. Although many pundits (and many more pessimistic Madridistas) thought that Real Madrid was going to suffer another defeat, they eventually came out as winners from the contest at the Ramon Sanchez Pizchuan in Seville.
An own goal from Sevilla's goalkeeper, Bono, made the difference as he deflected a glancing strike from Vinicius Jr. and sent the ball to his own net. Real Madrid played an average game but was strong defensively, which they had not been recently, and thus took home something that had been a rarity recently i.e. a clean sheet.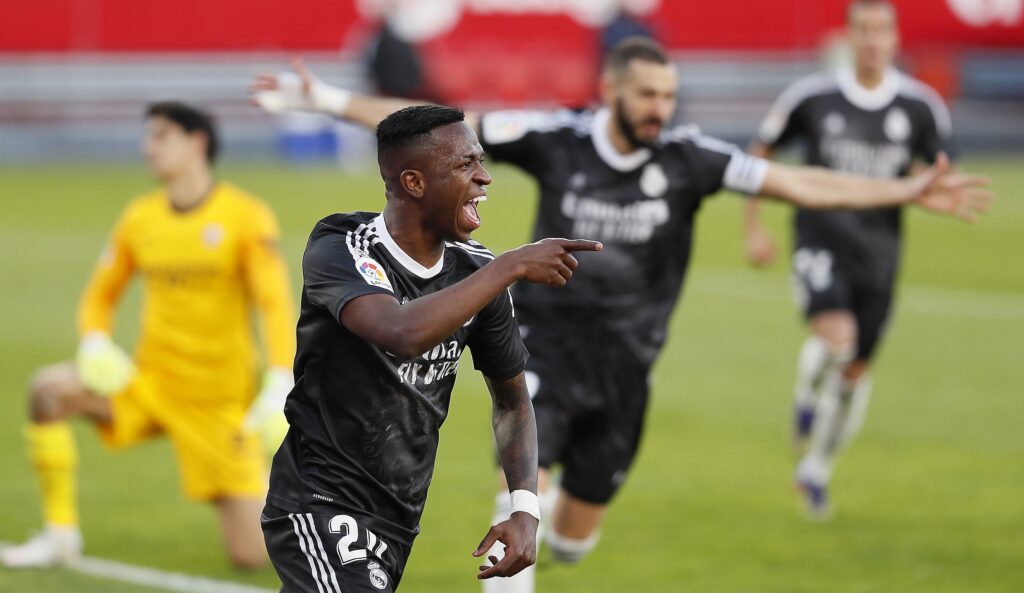 Real Madrid Player Ratings
Thibaut Courtois(8/10) :
He saved Real Madrid from conceeding a multiple times, even saved two powerful overhead kickskicks, one from Luuk De Jong and another from Lucas Ocampos in the 86th minute. Otherwise he was good, came out of his line many times to catch the ball. Decent display from him.
Lucas Vasquez (7.5/10) :
Probably the best defender among the 4 during today's game. Made many crosses from the right and was quick to recover everytime, Sevilla Counter-attacked. Had a selection dilemma with Ordriozola who came back from Injury but Zidane decided to give Lucas the chance due to his Decent displays recently.
Raphael Varane (7/10) :
The stopper was in-form today and made no slip-ups. Made Multiple interceptions in the 1st half and finished up with one aerial duel and a tackle. Linked up well with Nacho.
Nacho Fernandez (7/10) :
Linked up well with Varane and covered more ground when Mendy and Vasquez went upfront. Finished with 5 aerial duels tackles.
Ferland Mendy (7.5/10) :
Another day, Another decent performance from Mendy and he truly is the man who is the heir to Marcelo's throne. Grabbed an assist for the Goal. Was effective both offensively and defensively.
Toni Kroos (8/10):
Finished the game with 90% pass accuracy rate, and decided to have a go at the Goal which he nearly scored from a curled shot. Made one tackle and got booked his name Once.
Casemiro (7.5/10) :
Was defensively sound and was the main reason why Real Madrid struggle defensively without him. Got dispossessed once and didn't manage to get into the referee's books (which he does, often).
Luka Modric (9/10) :
A man of the match performance from Lukita as he finished the game with 92% pass completion rate, Still buzzing around the pitch at 35 years and he has become the Engine of the team in recent games. Honestly, his touches are the most pleasing thing to watch these days in football.
Vinicius Jr. (7.5/10):
Got dispossessed several times and Missed a sitter but managed to redeem himself as he forced Bounou to an Own Goal. But he needs to practise his dribbling skills.
Karim Benzema(7/10) :
Didn't got to see much of him today as he recently came back from a groin injury and was not decisive. Got dispossessed once and finished with 3 shots. Wore the Los Blancos Captain armband tonight.
Rodrygo (6.5/10) :
Didn't made an impact on the game as he came back to support the defence many times so didn't get the chance to offer much in attack. Subbed off at 66th minute.
SUBSTITUTES
Marco Asensio(6/10) :
Lost his starting position in the team today, came in at the 66th minute and pressured Sevilla but didn't get the chance or the endeavour to make an impact.
Overall team Rating: 7.5/10