Football Fans around the world, especially Madridistas witnessed a historic night at the Santiago Bernabeu on Wednesday as Real Madrid overturn a two-goal deficit against Paris-Saint-Germain and complete the 'Remontada' to progress into the Quarterfinals of the UEFA Champions League.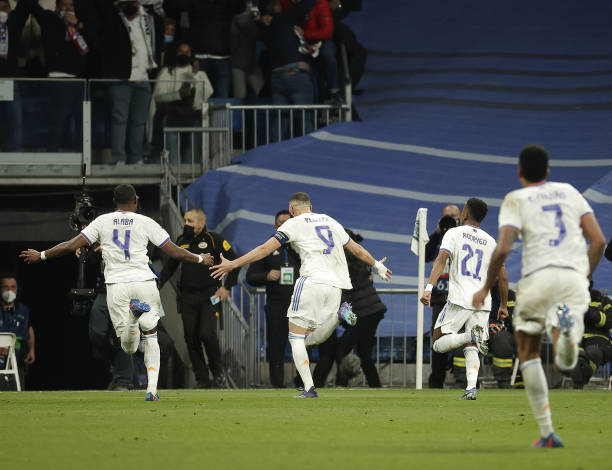 Karim Benzema scored a sensational hat-trick as he surpassed Alfredo Di Stefano in the Real Madrid scoring charts with a staggering 309 goals.
It was a totally different game from what we saw three weeks back at the Parc Des Princes. Real Madrid started the game with a high tempo as they pressed PSG (which they did till the last minute!) trying to force a mistake and snatch away a chance. PSG broke the deadlock late in the first half through a Kylian Mbappe strike and imposed a firm grip in the tie with a two-goal lead on aggregate.
Paris were 45 minutes away from the finishing line as they passed the ball around trying to run down the clock in the second half but eventually, they fell prey to Benzema's high press. The Frenchman pressed Donarumma as he took the ball for too long from a backpass from Verratti, the Italian was closed down and the ball travelled to Vinicius on the left flank as he squared it to Benzema, who placed his effort into the left corner as he started the 'comeback' for Los Blancos.
Real Madrid came knocking at the door for the French outfit as Karim Benzema scored his doublet from a brilliant Luka Modric run and pass which ultimately allowed Real's number nine to smash the ball past Donarumma. It was 2-1 to Madrid and 2-2 on aggregate, the Bernabeu erupted sometimes even disorienting the PSG players.
Within a span of two minutes after the second goal, the Bernabeu witnessed a magical night as 'Los Reyes De Europa' accomplished the 'Remontada' contributed by Real's talismanic forward Karim Benzema. PSG were cut open straight after conceding the second goal as Vini Jr. found space behind the disoriented defence. He finds Benzema with an offload at the edge of the box. Benzema takes the shot first time and hammers the ball with precision into the net.
It was a KARIM 'THE DREAM' night but a brilliant showing from Luka Modric, Eduardo Camavinga, David Alaba and Eder Militia summed the whole outstanding performance. Ancelotti substituting Asensio and Kroos just after the break with Camavinga and Rodrygo proved crucial as both of them brought pace and talent on the pitch, a lineup Madridistas expected from the start of the season.
Real Madrid next plays RCD Mallorca away on Monday 9:00 PM CET.