They did it again. Yes; it did happen. This time it was Manchester City's turn to feel futile in all their efforts. Real Madrid using the same old formula; giving their opponents a huge slice of hope – a glance into the next round – only to sucker punch them back to reality. It was akin to your favorite TV show with another twist; leaving your mouth ajar, your brain unable to compute what had just occurred. This is probably how the Manchester City players felt last night; for Real Madrid it was just another European outing. Two goals down – ninetieth minute – let's make the inevitable; evitable.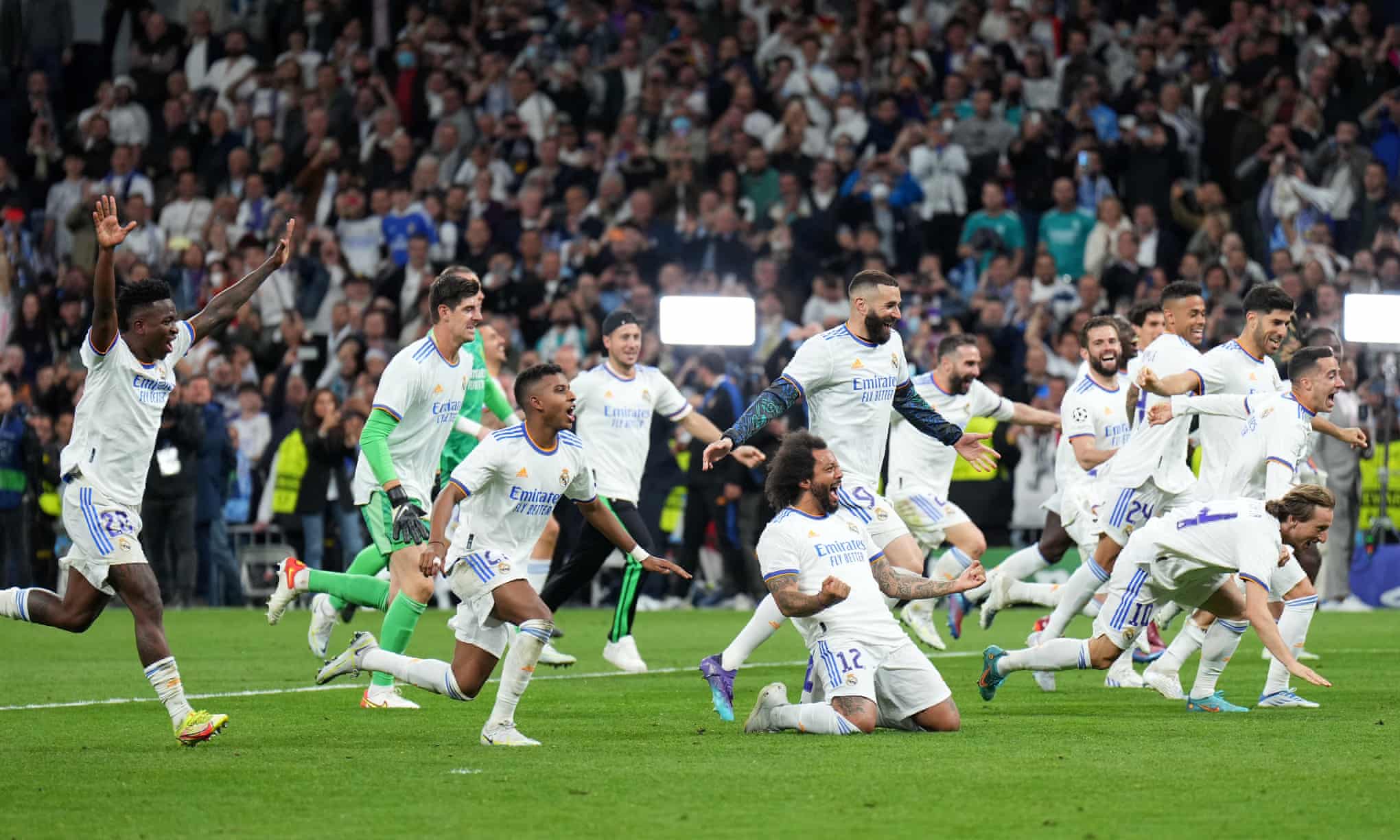 If you somehow missed the action, it was 3-1 to Real Madrid vs Manchester City on Wednesday night. To sell it short, it was pretty dramatic. City were cruising – until they weren't. Hit by a boulder that is Real Madrid in the Champions League. In similar fashion to the first-leg, Real Madrid refused to be beaten; only this time they went one further and won when it seemed impossible, even by their standards.
The match itself played out more evenly this time around, as Real Madrid enjoyed more possession than in the first-leg and created better chances, but they couldn't muster a shot on target all night (until they did – but more on that later). Karim Benzema was wayward with his header early on and Vinicius Jr could not direct a left-footed volley towards goal on 18′. Manchester City however looked the most likely to get a goal – they were comfortable most of the night. Bernardo Silva tested Tibo Courtois from close-range and later Phil Foden had a speculative shot from outside the box; both were saved comfortably.
The danger was there but City were often on occasions sloppy and nervous. Kevin De Bruyne was unlike himself and it was when he came off; that his replacement Ilkay Gundogan; played a piercing pass through a vacant Real Madrid midfield – who had gone to press, and left their defence vulnerable. Bernado Silva received the ball and drove forward – swiveling on the edge of the box and laying it off to his right, for Riyad Mahrez to run on to, and lash home a pinpoint left-footed strike. He wrong-footed Tibo Courtois, going for his near post instead; the strike was emphatic, with enough power that the Belgian could not adjust in time to stop it. City got the two-goal cushion; they had Real Madrid exactly where they wanted them. The Spanish giants struggled to get a foothold in the game. City continued to press, Real Madrid continued to struggle. On 86' Jack Grealish burst in on goal – dribbled past Tibo Courtois and had only the goal to score into – but Ferland Mendy was there to clear; how crucial it turned out to be. Jack Grealish almost scored again in the next passage of play. He showed brilliant feet in the box and his dummy shot sold Dani Carvajal and Eder Militao in trying to block it – Grealish went to his left and saw his shot brilliantly saved by Tibo Courtois with the stud of his boot; fine margins indeed.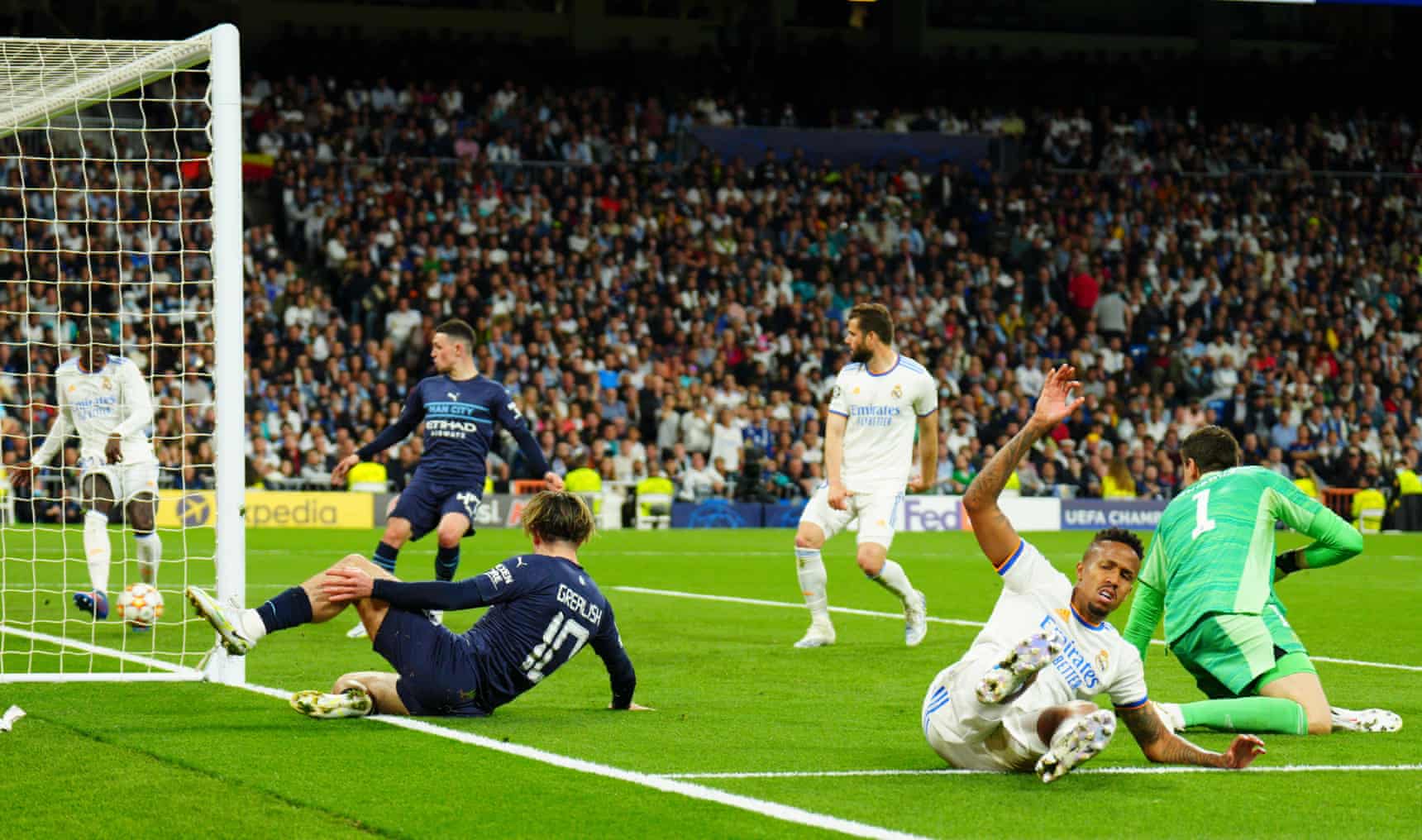 The ninetieth minute loomed and so did Real Madrid's comeback. Manchester City did everything right. They were two goals up in the Santiago Bernabéu with only minutes left to play. The game was over but somehow it wasn't. Eduardo Camavinga who came on to replace to replace Luka Modric on 75′ played a somewhat hopeful diagonal ball towards Karim Benzema in the box – the Frenchman managed to hook it in back into a dangerous area, just in front of the goal – and up emerged another talent; Rodrygo Goes; not for the first time this season, and not even for the last time this evening. He pounced onto the cross and scored – now it was 1-1 on the night and 5-4 on aggregate. Again, it seemed unlikely Real Madrid could actually pull this off. This was their first shot on target and they had scored.
A minute later and Real Madrid were going for it. They believed while some apostates who had left the stadium did not. Rodrygo found himself with the ball at edge of the box, but played an overhit pass to Militao – he raised his arms to his head in disappointment, as if the chance had evaded them, but Militao chased the ball and played it back towards Dani Carvajal – who whipped in a brilliant cross from the right-hand side. Marco Asensio got the faintest of touches and Rodrygo was behind him to head the ball in, past Ederson. Rodrygo ran to the corner to celebrate. The whole Real Madrid team bursting with adrenaline and fist-pumping. Marcelo was on the side lines laughing in almost utter disbelief, whispering something to Carlo Ancelotti who remained unfazed. The score line was level, it was not yet in their favor.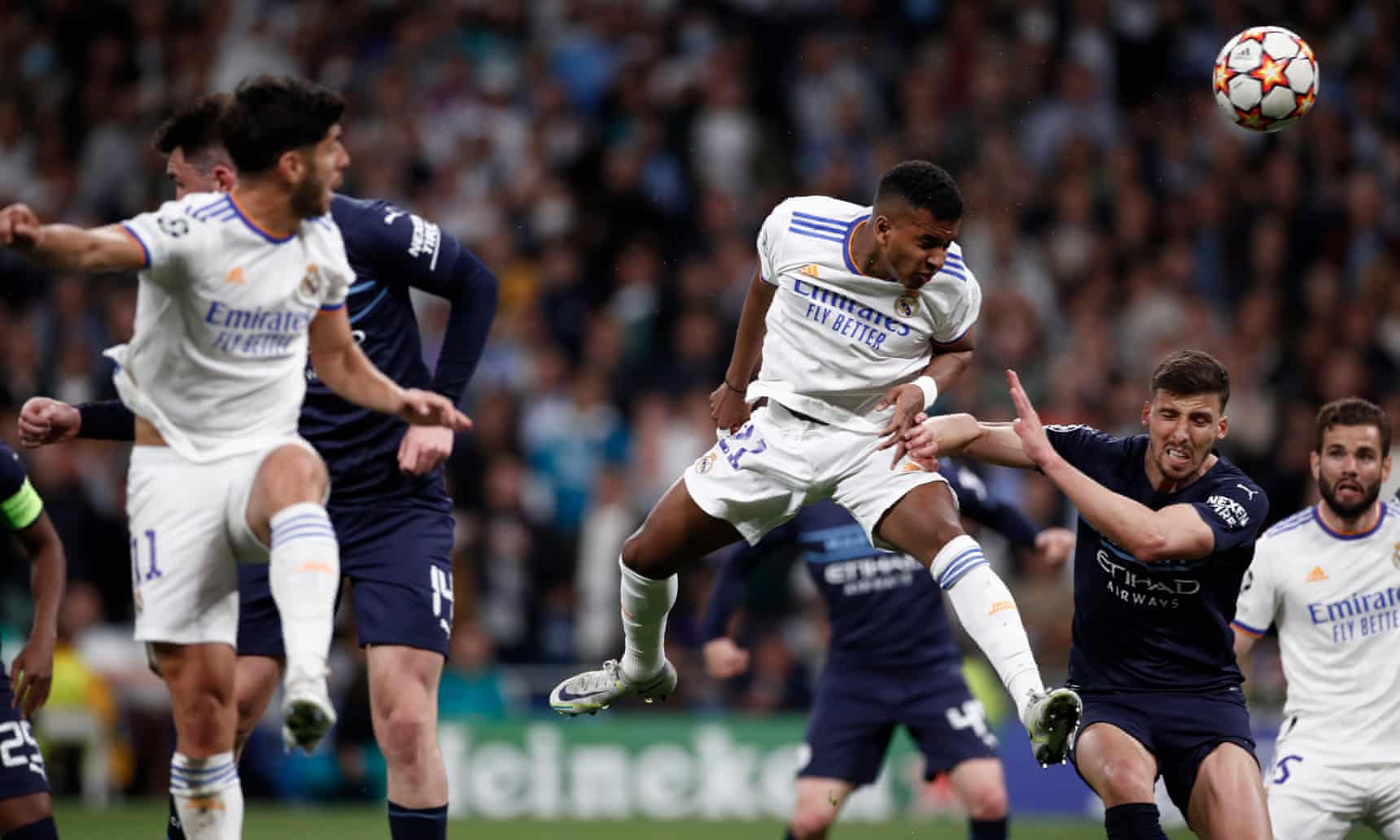 Rodrygo almost scored again in the next minute and nearly completed an incredible hat-trick but Ederson raced out to block his angle and his shot. City were shellshocked. They'd just been hit over the head with a Real Madrid-sized mallet. Yet, they almost scored themselves soon after, as a quick free-kick from Fernandinho put Phil Foden into a promising area but his shot just went over.
The Bernabéu was bouncing and it had drained Manchester City's powers – all the millions spent; all the hours of tactical training; all the talent at their disposal and the 178 minutes of being in the lead would mean nothing. Five minutes into extra time Rodrygo played a cross in towards Benzema who got in front of Ruben Dias – who put in a fatigued tackle – the referee did not hesitate to point to the spot. The cameras seemed to catch Benzema mouthing to Rodrygo, asking if he wanted to take the penalty and complete an amazing hat-trick. He refused. There was no ego here, this was all about the win and the team. Benzema stepped up – this time no panenka – just calm finish to his right and Ederson's left. The score line read Real Madrid 3-1 Manchester City (6-5). It was done. Real managed the game professionally from here on in; no more heroics necessary.
Federico Valverde can probably still be seen running around the Santiago Bernabéu pressing loose balls and chasing lost causes. Dani Ceballos made another cameo, he came on to bring some fresh legs and some calm to the midfield. Edouardo Camavinga putting in another shift and oozing class bringing the ball forward and winning crucial tackles. Vinicius Jr persistently dribbling – dragging that ball forward by will and talent. The final whistle went and the unfathomable was indeed a reality; again. Real Madrid had no right to win this game, just as they did not have any right to win against PSG or Chelsea.
Trying to analyze this game would be somewhat of a disservice to football. This game could not be predicted – the manifestation of the scoreline, certainly not. Pep Guardiola would be lauded right now for his tactical astuteness if they had come away with the result. He did everything right; but maybe therein lies the issue. He does everything meticulously; everything is measured. His team plays in a way where everything needs to be perfect, aligned in a way where it's akin to an obsessive-compulsive disorder. Real Madrid on the other hand, are the antithesis of this. They do not have a certain way of playing – nor a certain style. They utilize their best players and let them do their thing. Yes, there is structure, there is positional discipline, but it's not rigid like Manchester City's, hence when there is adversity – they do not fixate on one way of scoring; they believe they can score in any way; in any circumstance. This is not something Manchester City are accustomed to and it's not something they could acclimatize to – there wasn't enough time. Whereas, Real Madrid have been here before; eight times this season in fact – Ancelotti made sure that they knew that. There was no need to panic for them. Ancelotti's style and management is in stark contrast to everything Pep Guardiola represents. Perfection vs reaction. Whichever way the wind blew Real Madrid countered it. Conversely, Guardiola seems to only know how to blow in one direction, in a certain way. On most occasions it is enough to obliterate anything in its way; a hurricane ravaging through everything in it's path, but one house just would not blow over; Real Madrid.
For all that is written about luck, Real Madrid did deserve the win. They did what needed to be done – when it needed to be done. They dealt with adversity much better than Manchester City. Real Madrid were losing from the second minute onwards in the first leg, to the ninetieth minute of the second leg. They were down two goals on four occasions, but they always came back. They produced moments of quality and finished with supreme efficiency. Manchester City will be left scratching their heads. They were down by one goal on one occasion throughout 185 minutes. They didn't and couldn't react. They were paralyzed by the shock of what had occurred; but also by their own version of football.
Yet, even saying that, City did do everything right. But they'd come against a force which no amount of their own will, would have made any difference. There was destiny on Real Madrid's side, and there was an unwillingness to accept defeat once more. They were dead; it was ninety minutes on the clock and two goals down. That should be enough; it almost always is – against Real Madrid it was not. The logic goes out the window and what remains are thirteen-time champions, one step away from fourteen. There's only so much you can do, not to succumb to that.